PIN Pads
First Data FD-10 PIN Pad
The First Data FD-10 PIN pad is the perfect solution for merchants looking to capitalize on the rapid growth of debit, EBT and other Personal Identification Number (PIN) based transactions. Easily connecting to a variety of point-of-sale (POS) terminals and electronic cash registers (ECRs), the First Data FD-10 PIN pad offers a fast, simple way to accept the latest in PIN-based payments.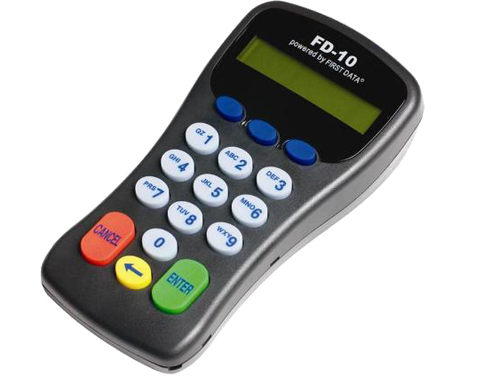 First Data FD-30 PIN Pad
The FD-30 PIN pad supports PIN-based debit transactions, traditional card swipes and contactless tap-and-go transactions, allowing merchants to offer their customers the full range of cardholder-initiated payment technologies. With the FD-30, customers can safely and easily initiate and process their own transaction. They remain in control of their card as they complete their purchase.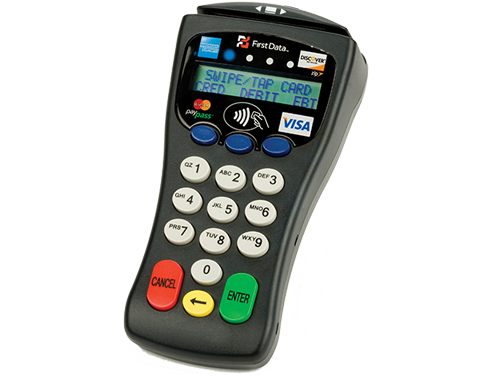 Hypercom S9 PIN Pad
Compact, comfortable and convenient: the Hypercom S9 PIN-based payment transaction devices are simple to use and cost-effective. The Hypercom S9's hand-fit and easy features maximize efficiency and responsiveness. It puts big number keys, colored OK and CANCEL keys, and a bright, backlit display in the palm of your customers' hands.
There's even a custom decorating opportunity to boost your brand awareness. The Hypercom S9 also meets every security and network integration standard and is Visa PED-approved and Triple-DES-capable. You get a choice of DUPKT or 12 Master/Session keys in one package.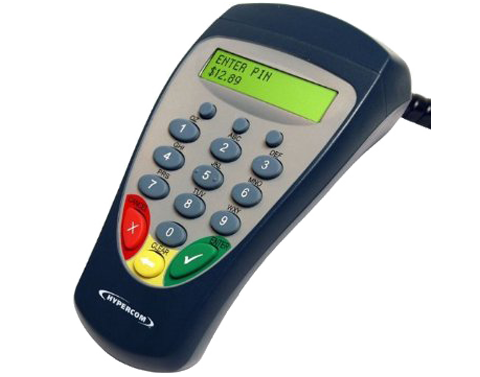 Hypercom P1300 PIN Pad
The Hypercom P1300 PCI approved PIN entry device is designed to meet the PCI-PED security standards for PIN entry, providing merchants with low-cost migration to newly imposed security guidelines. It is compatible with all Hypercom product families and features flexible communications options for rapid integration with electronic cash register (ECR) systems.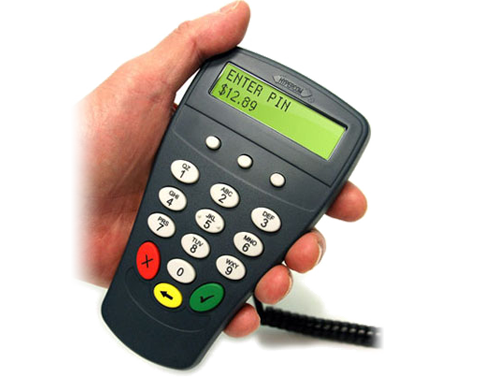 Ingenico 3010 PIN Pad
The Ingenico 3010 PIN entry device (PED) is a secure, compact and ergonomic hand-held PIN pad for PIN-based payment transactions. Compatible with VeriFone terminals and emulating VeriFone 101 and 1000 PIN pads, the i3010 is easy to integrate as a cost effective way for PIN or data entry. It provides flexibility by supporting international security capabilities including DES, 3DES, DUKPT, MasterSession and meets Visa PED standards.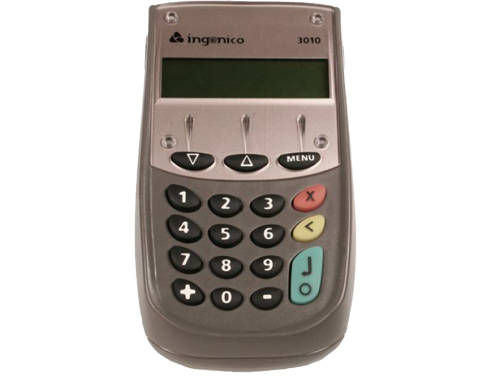 VeriFone 1000SE PIN Pad
The new PIN Pad 1000SE meets the latest standards for PIN entry. Plus, with built-in Triple DES encryption and optional VeriShield Security Scripts and Message Authentication Code (MAC), it provides protection against fraudulent transfers. It's a simple upgrade solution for merchants with those devices who need to meet the new PCI-PED security standard. A larger display offers graphic capabilities to support multiple languages, while the palm-shaped grip makes the unit easier to hold.