Contactless Payment Readers
First Data FD-20 Contactless Reader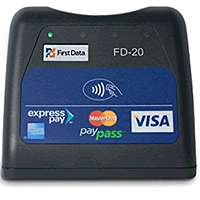 The First Data FD-20 contactless reader processes electronic payments using the latest technology. Customers simply wave or tap their card in front of an FD-20 reader that is connected to a POS terminal, and the transaction is initiated. By adding the FD-20 reader to an existing First Data proprietary terminal, merchants can support the acceptance of contactless cards, key fobs, and other specially equipped devices, with the same end result and security of a standard card-swiped transaction. This technology can significantly increase transaction speed and is ideal for businesses with a high volume of low dollar transactions.
ViVOtech ViVOpay 4500 Contactless Reader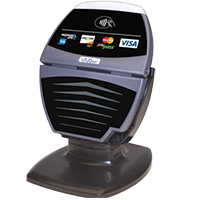 The flexible ViVOpay 4500 features ARM processor-based hardware with large application memory to support multiple branded EMV and magnetic stripe contactless applications in addition to retailer loyalty, prepaid and NFC mobile phone payment programs. It has built-in remote download for seamless firmware and application update in the field. Its flexible design allows it to be installed in almost any surface: countertop, mounted to windows, POS systems or cash registers and more.
ViVOtech ViVOpay 4500M Contactless Reader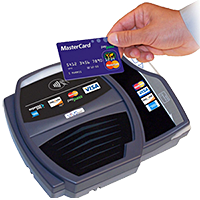 ViVOtech's ViVOpay 4500M contactless and magnetic stripe transaction device gives merchants the power of an integrated acceptance device for all of their payment transaction needs. With the ViVOpay 4500M, customers simply tap their contactless cards, key fobs and NFC mobile phones or swipe their magnetic-stripe cards to begin and complete transactions.
ViVOpay 4500M supports multiple applications such as MasterCard PayPass, ExpressPay from American Express, Visa PayWave and Discover Zip. The ViVOpay 4500M also supports private-label gift and loyalty cards and is ready for future scalability.
Key Features
Single Point of Acceptance: Integrated contactless and MSR device accepts all cards in a single attractive customer-facing form factor
Future-proof: Firmware and application can easily be updated remotely
Additional Applications: Equipped with new powerful ARM processor for advanced contactless functionality
Easy Integration: USB and RS232 connectivity combined with ViVOtech serial interface or OPOS driver
Low Cost: Upgrading existing POS systems costs only a fraction of replacement for new contactless-enabled POS
ViVOtech ViVOpay 5000M Contactless Reader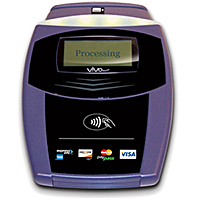 ViVOpay 5000M is a powerful contactless payment reader that can be adapted to existing POS and ECR systems to provide an integrated contactless and MSR functionality as well as an interactive display for customers. The flexible architecture and advanced functionality of the ViVOpay 5000M makes it an ideal solution for emerging mobile commerce and promotion applications based on NFC mobile phone technology.
Key Features
Contactless: Compatible with ISO/IEC 14443 Type A and B, NFC and Mifare«
Magnetic-Stripe: Track 1 and 2, bi-directional
Compatibility: Interfaces to a variety of POS and ECR host systems from leading vendors such as VeriFone, NCR, Ingenico, Hypercom, Thales, Gemalto, Radiant, IBM, Sharp, Micros, Partech, Xpient, Compris, Aloha
Implementations: Retail locations, quick service restaurants, ticket booths, multi-lane merchants, single-lane merchants, hospitality, car rental, and much more
Consumer Intuitive: Equipped with LCD screen and sound feedback to guide consumers through the payment process
Secure: Provides highly secure transaction whether financial, pre-paid, loyalty, or gift
Large Customizable Overlay Area: Large customizable overlay area provides a promotion platform for retailers
Intellectual Property: Protected by several patent-pending applications