Google Wallet
The vision
In the past few thousand years, the way we pay has changed just three times from coins, to paper money, to plastic cards.
Now we're on the brink of the next big shift.
Introducing Google Wallet
Google Wallet is an Android app that makes your phone your wallet. It stores virtual versions of your existing plastic cards on your phone. Simply tap your phone to pay and redeem offers using near field communication, or NFC.
Payments, offers, loyalty, and so much more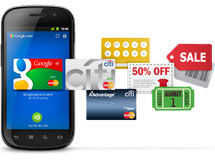 Google Wallet has been designed for an open commerce ecosystem. It will eventually hold many if not all of the cards you keep in your leather wallet today. And because Google Wallet is a mobile app, it will be able to do more than a regular wallet ever could, like storing thousands of payment cards and Google Offers but without the bulk. Eventually your loyalty cards, gift cards, receipts, boarding passes, tickets, even your keys will be seamlessly synced to your Google Wallet. And every offer and loyalty point will be redeemed automatically with a single tap via NFC.
The future of commerce starts today
Google Wallet is now released on Nexus S 4G by Google, available on Sprint. Over time, we plan on expanding support to more phones.
You can pay with Citi MasterCard cards and the Google Prepaid Card. You can tap to pay at hundreds of thousands of merchants.
This is just the beginning, but we believe that, in time, your phone with Google Wallet will be the one thing that holds everything you need to carry.
How it works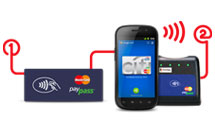 Look for these symbols at checkout.
Tap your phone on the reader.
Your phone sends payment, and, at some merchants, offers and loyalty information.
Payments
Give your smartphone some credit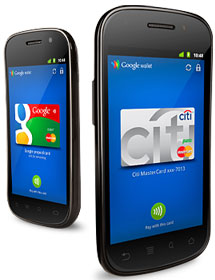 Tap your phone to pay with the virtual credit cards stored on your Google Wallet.
Google Wallet supports two kinds of cards:
Citi® MasterCard® credit cards, and
the Google Prepaid Card
We aim to eventually support all the payment cards you keep in your leather wallet today. So the only plastic you'll need is your phone.
Offers & Loyalty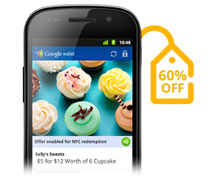 Google Offers are deals on products and services at local or online businesses. Whenever you buy or save a Google Offer, it automatically syncs to your Google Wallet so your offers are always with you.
Google Wallet can also store loyalty cards for participating merchants.
Security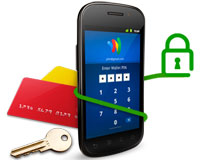 Google Wallet is designed and engineered to enable safe, secure payments. In fact, Google Wallet's security features go beyond what's possible with traditional wallets and cards.