To Stay, Go or Delivery Prompting
In a busy restaurant that offers sit down, to go or delivery service, the flow of your checkout process is very important. With the restaurant point of sale system, you have the flexibility of choosing to stay, to go or delivery at the touch of a button while the flow of your invoice processing is fast and efficient.
Depending on the choice you select when you are prompted, a message is sent to the remote printer explaining how the order should be prepared. For example, if the order is to go or delivery, the chef would know based on the printout to the kitchen printer to prepare the food in a delivery container instead of a plate.
You may pre-select your order for To Stay, To Go or Delivery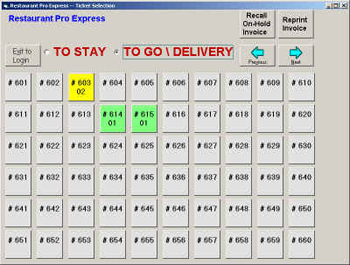 The POS system can be set to prompt you for To Stay, To Go or Delivery as you place your order