Serial Number Tracking
Whether you are a cellular, electronics, furniture, appliance or computer store, you will need to track the serial numbers of the items you are selling. The retail point of sale software has been designed to handle both incoming and outgoing serial number tracking.
If you receive items that have serial numbers from your vendor, you have the option of adding the serial numbers to the system when you receive them. When you select this method, TMS POS will prompt you for the serial number with an easy to read menu of your prerecorded numbers when you add the item to the invoice. If you select the outbound serial number method, then you will simply be prompted to type or scan the serial number from the item you are selling.
Both methods will store the serial number so that you will always know which customer bought which item. For example, if a customer brings an item in for repair, the system will allow you to confirm that this is the person who bought the system.
Inbound Serial Number Tracking
Prompts from a list of serial or batch numbers that were previously recorded when you received the item from a purchase order.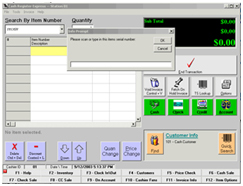 Outbound Serial Number Tracking
Prompts you for a serial number when adding the item to the invoice.