Detailed POS Reporting
Reporting is the most important feature of a good point of sale system. At The Merchant Solutions, our continued success has been a result of input from our customers.
The POS system is programmed to provide the most useful reports to any business.
As a business owner, it is important to be on top of your sales figures, costs and inventory levels. With lots of reports and its ease of use, the restaurant point of sale has become the system of choice of tens of thousands of business owners.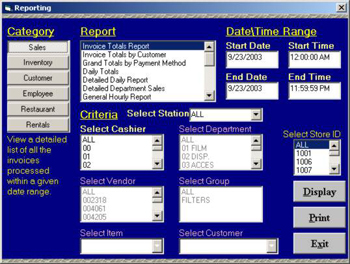 The POS system's reporting screen has been designed with ease-of-use in mind. You can choose the type of reports by the click of a button, choose the date and time range you would like data for and further narrow your report by adding criteria. When you select a report, a small description of what will be displayed will appear on the reporting screen as well. Select to view a report by store id (with the Host Module), cashier id, customer, vendor, department or item.
Whether you are a single convenience store or a chain of restaurants, the restaurant point of sale's reporting screen will have the information you need. You may choose among sales, inventory, customer, vendor, restaurant based, employee and rental reports. Using the software's host module for a multi-store scenario, you will be able to see these reports for each individual store as well as the entire operation.